Posts for: December, 2017
By Dental Clinic Of Marshfield
December 20, 2017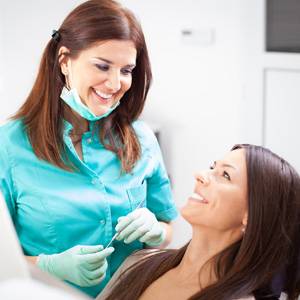 While it may not be one of your favorite features in the dental office, the dental drill is nevertheless necessary for treating problem teeth. It's used primarily for removing decayed or damaged structure and preparing a tooth for fillings or other restorations.
Dental drills have been used for decades and are quite effective — but they have their drawbacks. Their rotating burrs often remove portions of healthy tooth structure along with decayed material. Friction from the drill action can cause discomfort, so local anesthesia is usually needed. Drills can also emit a high-pitched machine noise that's unsettling to many patients.
There's a growing alternative to the drill, known as air abrasion. Although the technology has been around since the 1950s, the development of new suction pumps that capture the resulting dust from its use has made it more palatable as an option to the traditional drill.
Also known as particle abrasion, the technique uses a pressurized stream of fine particles (usually aluminum oxide, an abrasive powder) directed at teeth to wear away (abrade) the tooth's structural surface. We can be quite precise in the amount of surface material removed, so it's useful for diminishing stains or roughing the surface for bonding materials like composite resin. We're also able to remove decayed material with very little impact on surrounding healthy structure, and you may not need anesthesia during the procedure.
While this quiet alternative to the noisier drill is quite versatile, it does have its limitations. It's not that efficient for preparing larger cavities for restoration or for removing older amalgam fillings. The teeth to be treated must be carefully isolated to prevent the fine particle dust produced from being swallowed by the patient or spread into the air. High-volume suction equipment is a must or the procedure will create a "sandstorm" of particles in the room.
Still, for situations suited to it and with proper isolation measures, air abrasion can be effective and comfortable. If the technology continues to improve, the dental drill may soon become a relic of the past.
If you would like more information on procedures using air abrasion, please contact us or schedule an appointment for a consultation. You can also learn more about this topic by reading the Dear Doctor magazine article "Air Abrasion Technology."
By Dental Clinic Of Marshfield
December 05, 2017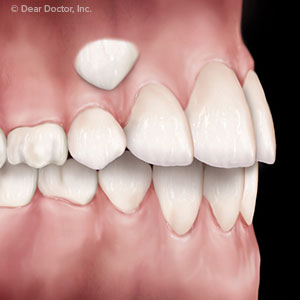 You don't have to be a dental professional to appreciate a beautiful smile. Likewise, you'll also know when something's not quite right with one.
Such can be the case when a tooth fails to erupt properly, causing most or all of the crown to remain below the gum line, a condition known as impaction. Upper canines (or "eyeteeth," for their location in the arch under the eyes) are especially susceptible to impaction: located on either side of the lateral incisors, which are on either side of the central incisors (the two center front teeth).
The upper canines are important both for function and appearance. Working with their lower counterparts they help cut through food as we chew, so you lose some of that efficiency when they don't erupt properly. Impacted teeth are susceptible to abscesses and cysts, and can impinge upon and damage the roots of other teeth. And just as importantly, their absence also disrupts the smile as nearby teeth tend to move or "drift" toward the open space.
Rather than remove the impacted canines as is often done with back teeth, it may be more advantageous for both function and appearance to "coax" them into full eruption. This requires first pinpointing their exact location below the gums using x-rays or cone beam 3-D imaging.
If the teeth are in reasonably good position we must first prepare them for orthodontic treatment by surgically exposing the crown from the gums and bonding a small bracket to it. We then attach a small gold chain to the bracket that extends outside of the gums when we suture them back into place. The chain is attached to orthodontic hardware that exerts pressure on the impacted tooth for several months to "pull" it out into the arch.
This procedure has the best chance of success if undertaken before the end of jaw development in early adulthood. Otherwise, it may be better to remove the impacted canines and replace them with dental implants, followed by orthodontic treatment of other teeth to restore their proper position and bite relationships. In either case, your impacted upper canines don't have to be a problem — we can restore both your mouth function and your smile.
If you would like more information on impacted teeth and treatment options, please contact us or schedule an appointment for a consultation. You can also learn more about this topic by reading the Dear Doctor magazine article "Exposing Impacted Canines."