Posts for: March, 2014
By Dental Clinic Of Marshfield
March 18, 2014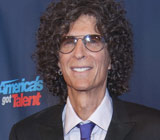 Is there anything that radio and TV personality (and self-proclaimed "King of All Media") Howard Stern doesn't want to talk about in public? Maybe not — but it took a caller's on-air question to get the infamous shock jock to open up about his own dental work.
When he was directly asked if his teeth were capped, Stern said no. "I redid 'em [some time] ago… I had bonding and um… veneers… over my real teeth. But I don't get that 'Hollywood white' though," he said, before adding his uncensored opinion on the subject of proper tooth shades.
As we're sure Stern would be the first to point out, everyone has a right to their own opinion. But we're pleased that Howard brought up an important point about veneers: They are custom-made in a whole range of different shades, from a more 'natural' tooth color to a brilliant white shine. Which one you select depends on what look is right for you — and that's your choice.
In case you aren't familiar with veneers, they are fingernail-thin coverings made of porcelain, which are bonded onto the surfaces of the teeth. This enables them to hide a number of defects — like chips, discoloration, and even small irregularities in spacing. They can also be used to lengthen teeth that seem out of proportion to the gums, lips or other facial features.
Veneers are among the cosmetic dental treatments most favored by Hollywood stars… as well as regular folks who want a dramatic improvement in their smile. Unlike crowns (caps), which generally require extensive reshaping of the tooth, standard veneers require the removal of just fractions of a millimeter of tooth surface. That makes them a minimally invasive method of smile enhancement that can make a big difference in your appearance. In fact, veneers are often a major part of a complete "smile makeover."
Dental veneers are custom made in a laboratory from a mold of your teeth. They are designed to fit your teeth perfectly — and to be just the shade you want. When you come in for a consultation, we will discuss what you like and don't like about your smile, and how we might improve it. Will you opt to get the brilliant "red-carpet" smile you always wished for… or go for a subtle, more natural tooth color? Only you can decide.
Howard Stern's veneers may be the most restrained thing about him… but we're just glad that veneers helped him get the kind of smile he wanted. You can, too. If you would like more information on dental veneers, please contact us or schedule an appointment for a consultation. You can learn more about this topic in the Dear Doctor magazine articles "Porcelain Veneers" and "Porcelain Crowns & Veneers."
By Dental Clinic Of Marshfield
March 03, 2014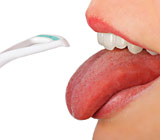 Although usually not considered a serious health condition, bad breath is nonetheless one of the most embarrassing conditions related to the mouth. Although some serious systemic diseases may result in mouth odor, most cases originate in the mouth or nose. Bacteria are usually the culprit — certain types of the organism can excrete volatile sulphur compounds, which emit a rotten egg or rotten fish smell.
The largest breeding ground for bacteria is the tongue, typically in the back where saliva and hygiene efforts aren't as efficient in removing food remnants. A bacterial coating can develop on the surface of the tongue, much like the plaque that can adhere to teeth; the coating becomes a haven for bacteria that cause bad breath.
There seems to be a propensity in some people who exhibit chronic bad breath to develop this tongue coating. To rid the tongue of this coating, people with this susceptibility could benefit from the use of a tongue brush or scraper. These hygienic devices are specifically designed for the shape and texture of the tongue to effectively remove any bacterial coating. Toothbrushes, which are designed for the hard surface of the teeth, have been shown not to be as effective in removing the coating as a tongue scraper.
Before considering using a tongue scraper you should consult with your dentist first. If you suspect you have chronic bad breath, it's important to determine the exact cause. Using a tongue scraper is unnecessary unless there's an identifiable coating that is contributing to the bad odor. It's also a good idea to obtain instruction from your dentist on the best techniques for using a tongue scraper to be as effective as possible and to avoid damaging soft tissues from over-aggressive use.
In addition, don't neglect other hygiene habits like brushing, flossing and regular cleanings. Removing as much bacterial plaque as you can contributes not only to a healthier mouth but also pleasanter breath.
If you would like more information on the tongue and halitosis, please contact us or schedule an appointment for a consultation. You can also learn more about this topic by reading the Dear Doctor magazine article "Tongue Scraping."